👁 85 lượt xem
Update top 10 homestay Buon Ma Thuot famous among young people in Dak Lak. Enjoy quality service, beautiful design. In particular, the price at the homestay is suitable with full facilities. Ensure that visitors staying will have unforgettable memories during their tour of the Central Highlands.
1. Don Ganh – The best homestay Buon Ma Thuot
As a rare homestay located in the heart of the city, it possesses all 3 factors: cheap price – service quality not inferior to the hotel – modern design combining the West and the East.
A special feature of this beautiful Dak Lak homestay is that the resort area is divided into two separate spaces. One side is a whole house motel, the other side is a homestay range of Ban Me Alley.
For the form of renting a whole house, Don Ganh offers a variety of room types such as Dorm, Family, Double rooms and whole-house rental services.
Where you don't like the homestay Buon Ma Thuot share owner? Rent a whole villa but the price is too high? So, book the rooms with "natural" style right away at Don Ganh.
Both homestay resort areas have a large garden for outdoor BBQ parties. The owners of Don Ganh Homestay are super lovely, give their best support if you don't know where to go, what to eat when traveling to Buon Ma Thuot, Dak Lak. So if you are traveling in a couple, large group or family, Doan Ganh is a cheap BMT homestay that you cannot ignore.
> Book now Homestay Buon Ma Thuot Don Ganh HERE
2. Lee's House 
Lee's House is one of the most popular homestays in Buon Ma Thuot today. To get to Lee's House, you move from Buon Ma Thuot city center to Cu E Bur commune for about 15 minutes (about 8km). Leaving the prosperous city to immerse yourself in the majestic mountain space, echo the sounds of birds and crickets.
The extremely chill space at Lee's House is divided into 2 areas: a place for guests to stay with rooms covered by glass doors and an area for visitors. Visitors to the homestay can both stay in a beautiful room and have the opportunity to enjoy a delicious BBQ.
Under the pale yellow sunlight, what could be more wonderful than putting on a bikini to go to the pool at Lee's House Buon Ma Thuot for a virtual check-in?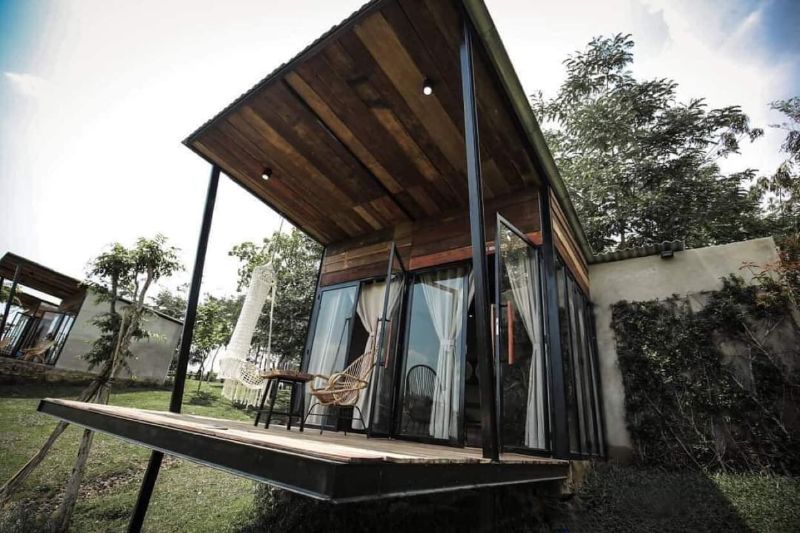 3. Zan Homestay Buon Ma Thuot
This homestay in Buon Ma Thuot has a relatively nice room with colorful decoration, alternating green, red, purple and yellow. This place is suitable for taking pictures of virtual life, quiet space and full facilities. At the homestay, there is a very beautiful design garden, green trees create a cool and clear feeling. Zan Homestay is a suitable accommodation for couples and families to relax and de-stress.
4. Ho Can – Homestay Buon Ma Thuot beautiful, quality
Located in Buon Ju, Ea Tu commune, about 9km from Buon Ma Thuot city center. Household Can Homestay Dak Lak includes 5 apartments built and named after the five elements: Kim, Moc, Thuy, Hoa and Tho.
Each apartment is fully equipped with various facilities such as kitchen, garden, air conditioning, wifi, etc. In particular, some apartments like Ho Thuy also have a beautiful swimming pool. Visitors to Ho Can can participate, organize games, BBQ parties with groups. Every corner of the homestay is meticulously and carefully designed, so that guests can stay and relax while taking pictures to check-in.
At this homestay Buon Ma Thuot also provides a self-service garden pub service with an extensive menu. Some dishes available on the menu include Milk Beef, Grilled Ribs, Grilled Beef, Grilled Whole Rabbit,…
5. Com Homestay Buon Ma Thuot
Enjoy the beautiful view with your friends in the lyrical natural setting at Com Homestay. This place is located at the junction of Da Tuong and Dang Tat. About 5km from the center of Buon Ma Thuot city to the North.
Com Homestay is also one of the beautiful homestays in Buon Ma Thuot. With space filled with light thanks to the design surrounded by transparent glass doors. The whole campus is up to 2500m2, covered with grass and roses. Com Homestay has full facilities such as kitchen, living room, toilet and even an outdoor fishing lake.
If you are looking for a place to relax and enjoy the outdoors, Com Homestay Buon Ma Thuot will be a great choice.
6. AMACON – Homestay Buon Ma Thuot is unique
AMACON – Amazing Container Hotel is a special homestay in Buon Ma Thuot. This place was built by the connection between 100 containers arranged in 5 floors. This is also the first accommodation in Buon Ma Thuot, Dak Lak made from containers. Amacon is a place to stay that offers many facilities such as a garden cafe, a BBQ area, motorbike rental,… Besides, when you come to Amacon Buon Ma Thuot you also have the opportunity to check-in and experience at Amacon. Nature and strange saltwater swimming pool.

7. Cu H'Lam Homestay
When coming to beautiful Dak Lak, you can hardly ignore Cu H'Lam Homestay. This place is designed in the style of stilt houses of the Ede people. Homestay is distinguished by its warm yellow-brown color, typical of the people of the red soil of the Central Highlands. The space of the room is cool and quiet, creating a sense of peace in the soul of each person.
Not only impressed by the unique motel model, Cu H'Lam Homestay also provides attractive dining services, poetic and lyrical scenery of the Ede people. The price here is also relatively stable, suitable for tourists who want to experience the culture of the Central Highlands.
> Learn more: Book the cheapest homestay in Buon Ma Thuot 2021
8. Queeny's Farmstay – Homestay DakLak is full of countryside
Queeny's Farmstay is located more than 6km from Buon Ma Thuot city center. This is a special homestay in Buon Ma Thuot, featuring a cool garden space, covered with beautiful flowers, for visitors to drop their souls into the poetic natural scenery.
Staying at Queeny's Farmstay, you will be immersed in the quiet village atmosphere. Away from the hustle and bustle of the urban hustle and bustle.
There's nothing better than waking up every morning to the sound of birds chirping and roosters crowing early in the morning. Visitors can also prepare their own breakfast from food sources available at the homestay such as eggs, fruits,… At Queeny's Farmstay, you can also enjoy freshly picked 100% freshly picked roasted coffee. The room space is always filled with light and flowers, creating a romantic and peaceful atmosphere.
9. An Homestay Buon Ma Thuot
This Homestay Buon Ma Thuot has a youthful and lively style with many trees. In general, An homestay is a cheap resort, suitable for students when traveling to Buon Ma Thuot.
10. The Highland House
This property has beautiful, modern decor, professional service that you can't miss when coming to Buon Ma Thuot, Dak Lak. The beds and cabinets are made from wood, creating a cozy feeling, close to nature. The interior design here is highly appreciated for its harmony and beauty.